Archive for website
Hello all! Just two quick notes. One is that I've re-located all of my anti-Steely McBeam merchandise into my main store. So, it is now available on more products for you to show your hatred! Here are the links: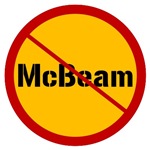 AND, I just did a little Squidoo Lens (Hopefully the first in a series) that features my Grandma Stella's recipes. Go and check it out!
Grandma Stella.
Let me know that you visited by leaving a comment, and rate my lens!
OK, that's all for now!
OK, now I'm actually going to blog about a blog. Scary. I've started a new blog. It's the Pittsburgh Shirt of the Week. Each week I will choose a new Pittsburgh-themed shirt that I really like. It will get bragging rights about being the "Shirt of the Week." (Wow…can you believe it
) You can view the Pittsburgh Shirt of the Week blog to see what I'm talking about.
I've also created a new website called Shirts-N-At. I've hand picked shirts that I think are worth wearing. Right now they're all thru CafePress, but I will most likely add more from other sites.
OK, more to come later……