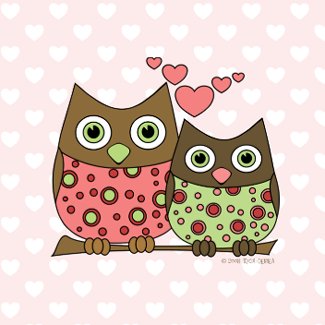 Love Owls
by
candystore
Design a
custom sticker
at zazzle
About a month ago, all Chloe could do was complain about "Dylan." She would get off the bus and complain that "Dylan is SO loud! Dylan gets on my nerves! I hate Dylan! Blah, blah, blah.
About two weeks after that, she stepped off the bus, looked up at me with a crooked-teeth smile and asked, "Mom, can I have a play date with Dylan?"
"I thought you didn't like Dylan?" I said.
"ILoveHimNowAndHe'sMyBoyfriend."
My brain thought, "Oh shit, here we go."
So, I told her that I didn't have a phone number for Dylan (a small white lie, I suppose I could have looked it up in the directory). A week later she was home with a phone number. So, I guess I have to set up a time to hang out with Dylan.
Under strict parental supervision.
Her teacher even said that she can see that they've been very buddy-buddy. It's quite cute. He's cute. She's cute.
It's a big ol' bucket of cute.
And hopefully not a glimpse into the future I'm gonna have to deal with.