Hey…I'm hot! (Well, sort of)
By
So, I wake up this morning and have two lovely emails from Zazzle. One stating that I designed the Hottest Funny T-shirt of the Day, and one stating that I designed the hottest Sticker of the Day. Go figure.
It does make me pretty darn happy, though. The two designs are below…they are the two Halloween Designs I did yesterday. The 'Official Candy Inspector' design also won a Today's Best award (on a tote bag). I just got lots of thumbs up yesterday, which makes me feel fantastic.
You can purchase the both of these products at 20% off until the end of Monday, September 17th. Pass it around!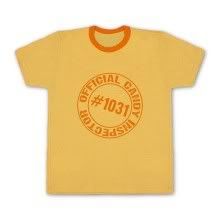 Go Look at It on Zazzle
You can also get these designs at my
CafePress store
, in the holiday section. Have a great Day!